There's a phenomena happening on social media lately and I haven't been able to track down any related articles or blogs.
Picture this: you find yourself stuck in the 'seen zone' but don't want to come across as needy or desperate by bombarding your crush with messages. Why reach out directly, when you can do this passively?! (Yes, we have the technology). I'm sure you've heard of image crafting and I bet you my hat that you've done it before.
The Urban dictionary (2019) defines image crafting as…
"Glorifying your life by creating it to be something it is not through staged pictures, posts, and statuses. Faking your life and not being authentic about your feelings and situation on social media."

In this context it's slightly different because it has the intent to trigger a specific reaction – to get yourself out of the seen zone as quickly as possible.

So, for this reason, let's call it a 'veiled courtship signal'. (It's a mouthful, I know, if you have a better term I'm all ears).
In short, notice me Senpai!
Y U do dis?!
There's nothing worse than being bombarded with messages by a potential mating partner. It appears needy, desperate and unattractive. Putting aside the fact that humans enjoy 'the chase', why is this the case? Even though we like to think that we're quite advanced, we aren't too distant from our caveman counterparts.
Let's go back in time a couple hundred thousand years.
If you were needy, you were a pretty big liability to your tribe. You would essentially be taking more resources than you provided, thus, threatening the survival of said tribe. Tribe abandonment essentially threatened your chances or survival and could mean death.
Fast forward to present day. Even though we don't need to worry about our survival, our caveman traits are still inherent in our social decisions.
Tim Urban coins these traits as our 'Social survival mammoth'.
Social value
When someone is too available, their social value goes down, making them less appealing. It's basic economics – up the supply and the demand goes down.
So, much like the international diamond trade, stealth and manipulation is used.

We secretly reach out to our crush by crafting a very appealing image of ourselves through a Facebook, Instagram or Snapchat 'story'. It's almost comparable to fishing – instead of bait, you're dropping a visual hook into the giant pool of noise that is social media. All your crush has to do is seek you out (have you ever heard of 'pull marketing'?)
Alternatively you may choose to signal your virtues through a status update (but that's less mysterious – have you ever heard of 'push marketing'?)
It is interesting to note how both Instagram and Facebook stories are featured at the top of the newsfeed. Almost as if these companies know what you're consciously or unconsciously doing?
The table below (taken from the journal article 'Covert Sexual Signaling: Human Flirtation and Implications for Other Social Species') illustrates the relationship between overtness of courtship signals and social risk. Whilst the article focuses on physical interactions, I feel that it is still applicable in this digital context. Reaching out to your love interest whilst being stuck in the seen zone is a big social risk, it could risk the future of the relationship and possibly have an impact on your reputation.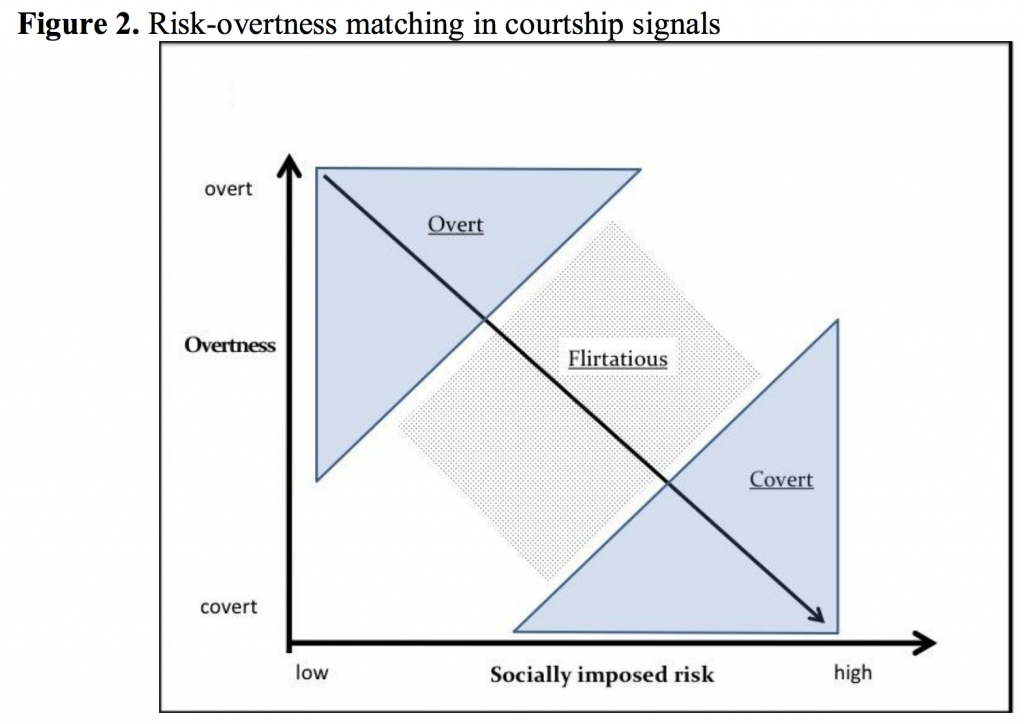 Types of veiled courtship signals
To ease the load on your noodle, I'm going to categorise different types of veiled signals or courtship displays.
Some signals might fall into one or more categories. If you'd like to suggest a category I've missed, please leave a comment below.
Type
Description
Example
Interest based
Delving into an interest area, hobby or activity that you know your crush enjoys. Sharing your positive thoughts and experiences to get their attention.
Sharing a story or status update about listening to an album, watching a movie or participating in a sport, hobby that your crush enjoys.
Event based
Sharing your participation in an event that your crush might also be interested in.
Attending a festival with friends or other 'potential partners'. Showcasing how busy you are (socially unattainable), or how much fun you're having (without said person).
Jealousy inducing
Sharing a photo of yourself/tagging yourself with a potential partner. Could be participating in an event or activity that appeals to your crush. This could be threatening for your crush.
A story or status update about a rock climbing date with a potential lover.
Altruistic
Partnering with a charity or cause to show people how much of a wonderful human you are.
Status update:
"Just volunteering at the refugee centre today. I love working with these people and making a difference in their lives"
Mysterious
Sharing something vague or mysterious to get attention. Could be a photo of a building, landscape or food item. It usually suggests that you're 'out and about', experiencing life without this person.
A story or status update of a sunset from a location that you do not frequent.
Dramatic
Making a mountain out of a mole hill to induce fear or worry from your crush.
Status update:
"Omg, I got followed home from the shops by this scary looking man. I was so scared. Luckily I made it home in one piece"
Guilt trip/vaguebook
Blaming someone for hurt that they have caused you but not being specific about the details. This is to induce guilt or shame in your potential mate.
Status update:
"Don't you just hate it when people treat you like garbage?!"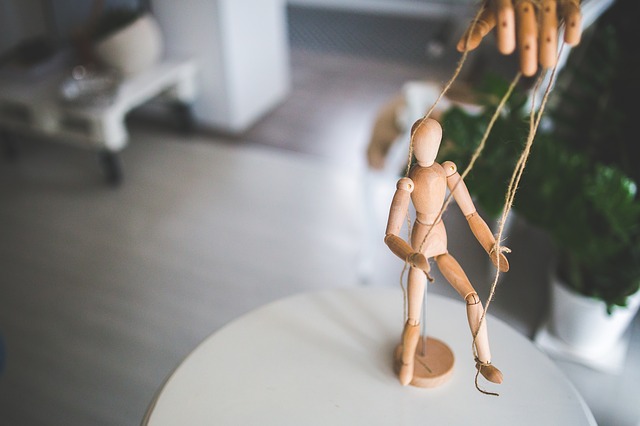 If you look closely, there are some very emotionally manipulative tactics at play here.
When did these unwritten social media rules come into play? Do people actually talk about these tactics or is it too shameful? When did we become so….persuadable? Has social media made us more susceptible to emotional overwhelm?
Are you being manipulative?
Each and every-time you post something to social media, ask yourself these questions:
Are you in the seen zone?
Are you hoping that your crush responds to you?
How will you react if your crush doesn't respond?
If the answer is yes to any of these questions, have a think about where you're directing your life energy. Are you directing it towards others or yourself?
At the end of the day…
Stop wasting your time with someone that constantly leaves you on seen.
Contrary to popular belief, love shouldn't require a fight. Love comes easily. Far more easy than this.
Whatever this is is not worth fighting for. Trust me.
Love shouldn't require manipulation nor psychological tactics. You are not Cambridge Analytica, nor should you strive to be.
I'm not trying to suggest that you stop signalling altogether, rather, think about why you are signalling and do it in a constructive manner. Don't give up on your volunteering or artistic efforts. If you are passionate about your hobbies then continue, but do it for you, not for anyone else.
In the words of Professor Geoffrey Miller (2019), "if you do signalling with a lot of self-awareness that's totally fine and it's at the root of a lot of human progress and creativity."
___
I'd love to hear your thoughts. Have you found yourself creating a post or story just to get yourself out of the seen zone?
Are there unwritten rules to dating on social media?
Please leave your comments in the section below.
If you liked this blog post you may also be interested in Geoffrey Miller's new book titled Virtue signalling: Essays on Darwinian politics & free speech.
___
References
Falkovich, J 2019, 'Diana Fleischman and Geoffrey Miller – Interview', Put a num on it, weblog post, 8 July, date retrieved 1st August 2019, <https://putanumonit.com/2019/07/08/diana-fleischman-and-geoffrey-miller-interview/>
Gersick, A. and Kurzban, R., 2014. Covert sexual signaling: Human flirtation and implications for other social species. Evolutionary Psychology, 12(3), p.147470491401200305.
MamaS, 2017, 'Facebook image crafting', Urban Dictionary, date retrieved 9th August 2019, <https://www.urbandictionary.com/define.php?term=facebook%20image%20crafting>
All images featured in this blog post are in the public domain and have been sourced from Pixabay and Wikimedia Commons.